Learn Piano Chords Online
Notes on the Piano
Music Notation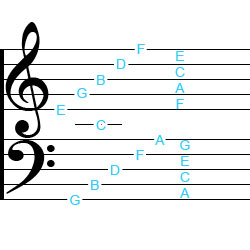 The white keys on a piano are used play all the natural notes - containing no sharp (♯) or flat (♭) notes.
The black keys on a piano play only the sharp (♯) or flat (♭) enharmonic notes.
Enharmonic notes share their name with both notes located on each side of them: C♯ and D♭ are the same note located between the C and D natural notes.
There are no enharmonic notes between B and C, nor between E and F.
Following the white B key on the piano would be another white C key, starting a higher octave than the original.
♫ Music Theory
Chord Formulas
Piano chords, and all chords in music, are played by combining a series of notes from a major scale in a certain order to create each chord voicing. Many chords use intervals of threes between the notes known as triads.
The formulas below show which notes of the major scale are played to create different forms of chords used in all styles of music.
Major Chords (M, maj):
1 - 3 - 5
minor Chords (m, min):
1 - 3♭ - 5
Augmented Chords (aug):
1 - 3 - 5♯
Diminished Chords (dim):
1 - 3♭ - 5♭
Suspended 4 Chords (sus4):
1 - 4 - 5
6 Chords (6):
1 - 3 - 5 - 6
minor 6 Chords (m6):
1 - 3♭ - 5 - 6
7 Chords (7, dom7, dominant 7):
1 - 3 - 5 - 7♭
Major7 Chords (maj7, M7):
1 - 3 - 5 - 7
minor 7 Chords (m7, min7):
1 - 3♭ - 5- 7♭
9 Chords (9, dom9, dominant 9):
1 - 3 - 5 - 7♭ - 9
Major 9 Chords (maj9, M9):
1 - 3 - 5 - 7 - 9
minor 9 Chords (m9, min9):
1 - 3♭ - 5- 7♭ - 9